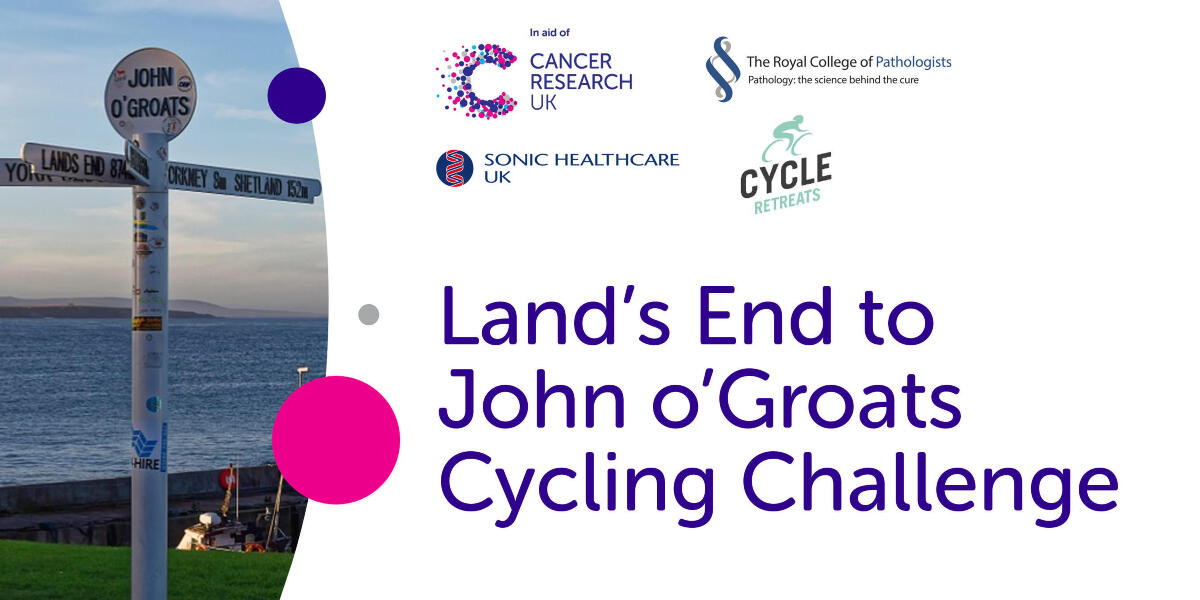 Land's End to John o'Groats Challenge by the Royal College of Pathologists
Total raised
£33,738.89
+ £6,716.82 Gift Aid
Raising money for Cancer Research UK during the Royal College of Pathologists 60th anniversary year.
Our story
The Royal College of Pathologist is inviting people to join their Land's End to John o'Groats cycling challenge, sponsored by Sonic Healthcare, in a bid to raise money during its 60th Anniversary year for Cancer Research UK. As part of its Diamond Jubilee celebrations this year, the College of Pathologists wanted to partner with Cancer Research UK because the College understands its dedication in supporting fundamental cancer research and clinical trials, in attempts to improve cancer patient outcomes. By putting on this challenge, organised by Cycle Retreats, the College is welcoming anyone who wants to take part. Organised by Professor Sarah Coupland, Vice President for Communications at the Royal College of Pathologists, said: "Pathologists like me diagnose cancer every day, and have had family members and/or friends affected by it. I am going to take part because I want to highlight what role pathologists have in making cancer diagnoses, and how closely pathologists and Cancer Researchers work together, in an effort to tackle cancer and discover new treatments." We have 4,000 reasons to believe we can beat cancer; that's how many smart minds are working in the best research facilities across the country to find new ways to prevent, diagnose and treat this disease. When you support Cancer Research UK, you are not only funding research into life-saving discoveries, kinder treatments and ways to educate people about lifestyle choices, but you are also helping to keep loved ones together for longer, see people reach milestone birthdays and bring forward the day when all cancers are cured. With one in two of us likely to be diagnosed with cancer in our lifetimes, our research is vital. Cancer Research UK is the only charity to research all 200 cancer types without government funding. Support like yours ensures we can continue our work, bringing about more breakthroughs, more treatments and more cures than ever before. Everything we achieve for our life-changing research is thanks to the generosity and dedication of our volunteers. Simply put, we could not achieve these breakthroughs without your support. You don't have to wear a lab coat to beat cancer.
Latest updates
With Cancer Research UK Giving Pages more of the money raised goes towards beating cancer. Aside from the credit and debit card fees, every penny donated goes to Cancer Research UK.
All donations made to this page will automatically be transferred to Cancer Research UK.