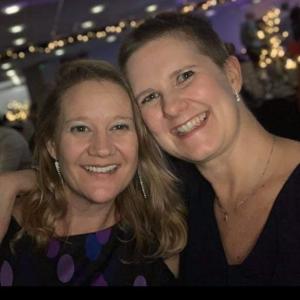 Elaine's Race for Life

Total raised
£672.00
+ £133.75 Gift Aid
336% of the £200.00 target
Sun 12 Sep 2021 - Sun 12 Sep 2021
My Story
My reason for joining in Race for Life is my beautiful, courageous and strong willed sister, Julie! In 2019 she was a healthy, fit young woman, whom had an operation to remove a cyst and undergo a full hysterectomy, big enough in its own right! But, to then be advised post op that ovarian cancer had been diagnosed and a course of chemotherapy was necessary blew our whole family out of the water. For the remainder of the 2019 we all supported Julie physically and emotionally through the horrendous chemotherapy sessions and all of the health side effects that she endured many, many months after the final session in October 2019. Slowly over the following year she managed to start to feel like herself again, regaining her physical fitness and emotional state, I was extremely proud as to how she bounced back from such a traumatic time. However, in November 2020, she discovered a small lump in her breast, after the usual appointments and tests we discovered in January 2021 that the lump was cancerous and surgery and then chemotherapy would be necessary! Such a cruel fate after already bravely battling ovarian cancer just over 12 months prior. At this point, before surgery, Julie decided she wanted to give something back and advised she wanted to take part in Race for Life is September of 2021 and invited family and friends to join her. Initially I thought she was CRAZY, we were expecting her to undergo chemotherapy which would have been up to July of 2021 and knowing the side effects she suffered the first time, I could do nothing but accept the invitation to accompany her, as I had visions of pushing her round in a shopping trolley!!! Thankfully, chemotherapy was replaced with radiotherapy, which was a huge relief, especially for Julie and to her family and friends, as we all knew she had already endured enough pain and fought enough battles for her lifetime. As our event approaches, I do wonder if the tables have turned and in fact Julie will be pushing me around in a shopping trolley, as I have a self-diagnosed torn meniscus in my knee and a sprained ankle, that doesn't want to heal and keeps re-spraining! However, I WILL be by my sisters side on 12 September and for whenever she may need me in the future. Therefore, may I ask that if you are able to spare a few pennies to help an extremely worthy cause, we would be most grateful, and if you fancy a laugh, come cheer us on in York on the day – you'll spot us a mile off :o) Thank you Elaine x Cancer is happening right now, which is why I'm taking part in a Race for Life 5k to raise money and save lives. 1 in 2 people will be diagnosed with cancer in their lifetime. Every single pound you donate makes a difference to Cancer Research UK's groundbreaking work, so please sponsor me now.

Cancer survival rates have doubled over the past 40 years. Consistent progress is being made but improvements to technology and ground-breaking work offer new opportunities to find different ways to prevent, diagnose and treat cancer and improve survival rates even further. Help Cancer Research UK improve results even faster.
Latest updates
With Cancer Research UK Giving Pages more of the money raised goes towards beating cancer. Aside from the credit and debit card fees, every penny donated goes to Cancer Research UK.
All donations made to this page will automatically be transferred to Cancer Research UK.