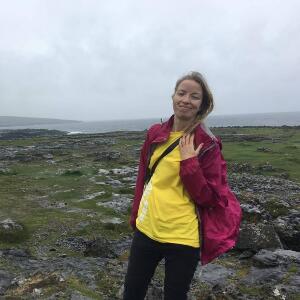 Angela is Jogging 31 Miles in August

Total raised
£2.50
+ £0.63 Gift Aid
My Story
Cancer Research UK: Jog 31 Miles In August Challenge This August, I'm jogging 31 miles in the month to help in the fight against cancer. Did you know that on average one in two of us will get cancer in our lifetime? It is a sobering thought. Just looking at my own family, on my father's side: My grandmother Margaret Coyle lost her life to breast cancer in Co Cavan in November 1971. I never met her as she passed away before I was born. Three of my four uncles on Dad's side - her sons - Uncle Jim, Uncle Joe and Uncle John succumbed to lung cancer - Joe in East Dulwich in 2014, and Uncle Jim (Co Westmeath) and Uncle John (Co Cavan) within six months of each other in 2017 - John was our favourite Uncle and I spent his last week of palliative care with him in Cavan General Hospital. John's wife Mary died one month after him from stomach cancer - we did not even know she had it when he entered Cavan hospital for his final week of palliative care. He did not know she was in hospital too, and she was upstairs in intensive care when he passed away. On my mother's side, my Westport cousin Nuala passed away from ovarian cancer in January 2020, just before COVID hit. It was a complete shock as we did not know the cancer had returned after three years. She was 61 and left behind a lovely husband and two twenty-something boys. I think everyone knows some family member, neighbour or friend who is affected by the big C - just like me. My Mayo cousin Kitty's husband Gareth Williams does amazing work in the field cancer research in Cambridgeshire. His medical research focuses on translating basic discoveries in the cancer-cell cycle field into diagnostic and therapeutic applications. This translational pipeline of research has generated high-impact academic papers and international patent filings. A number of these discoveries have already been commercialised by Biopharma into a range of diagnostic tests and therapeutic targeted agents. Read more about Gareth's work here: https://oncologica.com/our-team/prof-gareth-williams/ I'm joining many others around the UK in this Jog 31 Miles In August challenge. While running in memory of all departed loved ones, in particular, I'm running in memory of my Uncle John. He tried so hard to stay with us, but when the cancer returned for the third time, he only had a 14% chance of beating it, but his body was not strong enough for all the gruelling treatments again so he declined the treatment offered. It's coming up to his fifth anniversary on August 2 and I miss him. If anyone would like to support the life-saving research that Gareth and many more do, please do so by making a £2.50 donation to my page. If anyone else would like to take up this challenge, you can sign up here too. Thank you.
Cancer survival rates have doubled over the past 40 years. Consistent progress is being made but improvements to technology and ground-breaking work offer new opportunities to find different ways to prevent, diagnose and treat cancer and improve survival rates even further. Help Cancer Research UK improve results even faster.
Latest updates
With Cancer Research UK Giving Pages more of the money raised goes towards beating cancer. Aside from the credit and debit card fees, every penny donated goes to Cancer Research UK.
All donations made to this page will automatically be transferred to Cancer Research UK.